Actress Lena Headey initially protested her shocking scene with co-star Pilou Asbaek in the Season 8 premiere of "Game of Thrones."
[SPOILER ALERT: The remainder of this article will discuss the final premiere of "Game of Thrones."]
While most of the action in the episode took place up north in Winterfell, things shifted south to King's Landing where Cersei welcomed the Golden Company mercenaries (minus their elephants) brought to her by Euron Greyjoy.
Greyjoy has been doing everything in his power to get in the queen's good graces since Season 7 in the hopes that he'll be that much closer to power when the war ends. However, power isn't his only motivating factor. The feared Iron Islander has made it clear that he has a burning lust for Cersei. In the episode, he uses his maniacal charm to convince her to sleep with him despite her initial protest.
JOE JONAS CELEBRATES 'GAME OF THRONES' PREMIERE IN STYLE, TALKS WEDDING PLANS WITH SOPHIE TURNER
"I kept saying, 'She wouldn't, she wouldn't, that she would keep fighting,'" Heady told Entertainment Weekly of her moment with Asbaek's character. "But [showrunners David Benioff and Dan Weiss] obviously know what they're doing and were adamant Cersei would do what she had to do."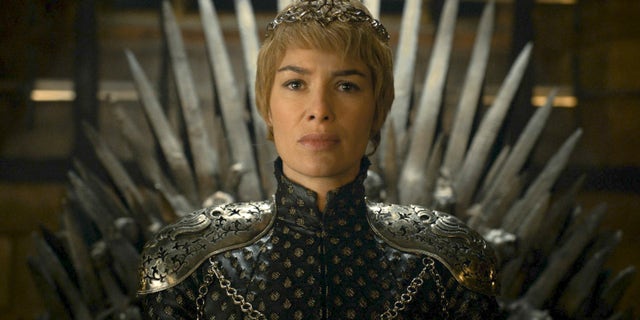 Asbaek revealed that there were a lot of conversations behind-the-scenes about the scene and mentioned that it was almost scrapped entirely. However, it made it to the final cut once Heady started to come around to the idea.
'GAME OF THRONES' GUEST STAR ED SHEERAN'S GRISLY FATE REVEALED FOLLOWING BACKLASH
"There's something to play in all of it," she said. "Cersei is such the ultimate survivor in all of this. She refuses to fall to her knees. She goes to the place where she doesn't want to go, which makes it more powerful sad because of who she's not with."
The actress was referencing her character's relationship with her brother, Jaime, who was revealed to have impregnated her before leaving for Winterfell himself. As a result, many believe Cersei didn't yield her power to Euron, but is using him to cover up the fact that her newborn will be her brother's.
CLICK HERE TO GET THE FOX NEWS APP
However, the entire relationship is still shrouded in mystery as eagle-eyed fans noticed Cersei drinking wine. It's unclear if she was lying about being pregnant in the first place, or simply doesn't know or care about the dangers of drinking while pregnant.